Caryna is an elegant cadeaux and patented piece of furniture, which can also be used as a fragrance diffuser for rooms thanks to the combination with natural essences obtained from the distillation of the petals of our roses grown at about 3000 meters above sea level.
You can decorate and give joy and color to your furnishing spaces, you can decorate the table for your guests with a lovely centerpiece or as a place card, to show your affection to loved ones.
A new "Accessible Luxury" Made in Italy, which takes your breath away and leaves room for feelings. CARYNA is made with real preserved roses that resist the transience of time.
Preserved Roses
All CARYNA roses are real, slow growing roses, needing 100 days to grow instead of the usual 40-50 days. The growth of CARYNA roses is monitored frequently through strict quality controls, and then treated with a particular stabilization process that allows the flower to last over time.
The first step is to extract the sap from the roses, the second is to rehydrate the flower with a specific solution that allows it to last over time. From now on, you can forget about adding water to your flowers!
CARYNA stabilized roses do not need water, soil, direct light or specific supplements. However, we recommend that you do not touch the roses, except with extreme care, because otherwise your flowers may lose their shape and color. Store them out of direct sunlight and in a dry environment.
Caryna roses are available in more than 20 colors, from pastel colors, to bright colors, the timeless black and white, and the special silver, gold and rainbow colors.
The Collections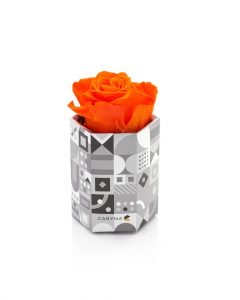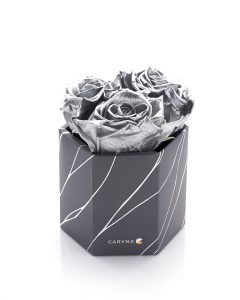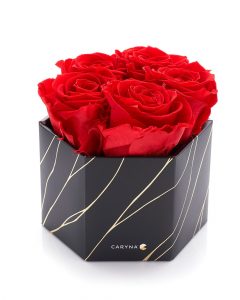 The Caryna family consists of three collections: Elegance with an elegant and refined flavor with dark gray packaging and golden details inspired by marble, Chic with a classic style, also inspired by marble but with gray packaging and silver details, Essential inspired by the Bauhaus with geometric pattern in shades of gray.
Three different styles that can be combined with a wide variety of environments and furnishings to integrate perfectly into homes, hotels, restaurants, offices and any place with particular attention to detail.
For each collection there are three sizes: one, three or five roses perfect to use individually or together.
The Essences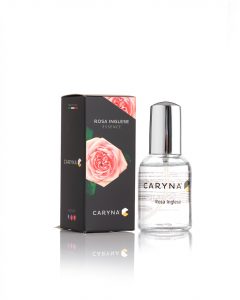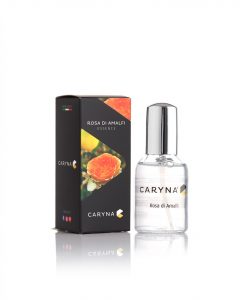 From CARYNA research, the new and dedicated perfumed essences obtained from the petals of our roses are combined to release the real fragrance of stabilized roses and transform them into an elegant room fragrance. The essences are produced in Italy, do not contain allergens and are certified as cosmetic by the European Community. Can be used to perfume your Caryna roses or as a moisturizing and emollient essence for your skin.
Buy Caryna Roses on the marketplace: Fioribelli Preserved